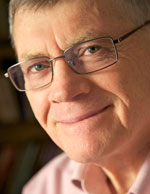 Peter E. Murphy was born in Wales and grew up in New York City where he operated heavy equipment, managed a nightclub and drove a cab. He is the author of seven books and chapbooks including Stubborn Child, a finalist for the Paterson Poetry Prize.
His recent essays and poems appear in The Common, Diode, Gravel, Guernica, Hayden's Ferry Review, The Lindenwood Review, The New Welsh Reader, Rattle, Word Riot and elsewhere. His unique poetry writing assignments have been collected in Challenges for the Delusional.
He is a consultant to organizations including Arts Horizons, the New Jersey Council for the Humanities, the Philadelphia Arts in Education Partnership and the Geraldine R. Dodge Foundation and has been an educational advisor to Fooling with Words with Bill Moyers and other PBS poetry programs.
Peter has received awards and fellowships from The Millay Colony for the Arts, The Atlantic Center for the Arts, Yaddo, The Folger Shakespeare Library, the White House Commission on Presidential Scholars and the New Jersey Council on the Arts. Retired from Atlantic City High School, he continues to teach creative writing at Stockton University. He is also the founder of Murphy Writing of Stockton University which offers the Winter Poetry & Prose Getaway, Inservice Solutions Professional Development and other programs for poets, writers and teachers.
Peter's Writing Getaways are known for helping writers develop their craft.
See what's coming up.

"Peter Murphy is an inspirational force of nature! He is wonderful at fostering a warm, inviting environment in which writing comes easily. The writing community is blessed to have his leadership and presence."
~ Shore Thing Writing Getaway Participant
Peter is the author six books of poems and his unique poetry writing assignments have been collected in Challenges for the Delusional.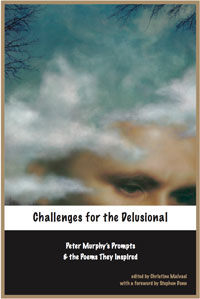 Challenges for the Delusional
Jane Street Press, 2012
This anthology compiles a selection of Peter Murphy's infamous and eccentric poetry-writing prompts. For years he's shared these prompts at the annual Winter Poetry & Prose Getaway conference in New Jersey. This collection features a sampling of the many diverse and wonderful poems that they've inspired.
From the Foreword by Stephen Dunn, Pulitzer Prize Winner
"Peter's approach to teaching poetry writing is unique and uniquely effective…. [his] quirky prompts have given way to poems that range from humorous to serious, from affectionate to nostalgic. They'll take their place among the workshops, panels, good meals, and late night dancing—the pleasures that abound at the Getaway."
Learn more and try a free writing prompt
$14, Available from Jane Street Press and Amazon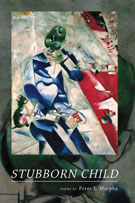 Stubborn Child
Jane Street Press, 2005
Finalist for the 2006 Paterson Poetry Prize
"Peter Murphy's poems are haunting and funny by turns--and sometimes both at once. They demonstrate a mastery of condensation, pacing, and specificity. Stubborn Child tells the vivid story of a child shuttled from one household to another, enduring self destructive behavior, and finding his way out of dead end jobs to a complicated life in which he is a thoughtful teacher, loving husband and father. In the vivid stories of what saves him, we get clues to what might save us as well--truth telling, respect, generosity and humor."
~ Excerpted from an Amazon.com review
Additional reviews of Stubborn Child
From the Home News Tribune
From Ideas, The Newsletter of the New Jersey Council for the Humanities
$14, Available from Jane Street Press and Amazon
Please visit Peter's website to read highlights of his writing and selected press.