This interview, conducted by Rebecca Gambale of The Geraldine R. Dodge Foundation, originally appeared on The Dodge Blog on June 28, 2013.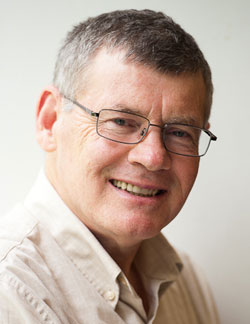 Photo Credit: Lauren Rutten
When did you first discover poetry? What poets made you want to write poetry?
My aunt claimed that I wrote a poem when I was seven years old, "The Smells in Grandmother's Kitchen," that was published in the School Bank News, but I don't remember it. I do remember writing "Fill in the Blank" love poems to whatever girl I was in love with when in high school. "Oh Liz with your blonde hair..." would become, "Oh Renee with your red hair" the next week. After writing a few hundred of these awful things, I fell in love a lot, I did something radical. I read a poem. That hadn't occurred to me before. The poem was Ginsberg's "Howl." I realized that everything I had written up until then was crap.
With all the other demands and distractions in life, how do you make time for poetry?
When I was teaching full time at Atlantic City High School, I found it difficult to find quality time to concentrate deeply enough to write poems that surprised and pleased me. I got up an hour earlier each morning, but fell asleep at the keyboard. I wrote and shared with my students, but I was writing for fourteen year olds, not my desired audience. Finally, I was lucky enough to have several residencies at Yaddo and other artist colonies that provided me with time and permission to do nothing but write. It worked.
Tell us about any personal habits, rituals, ceremonies, superstitions that are part of your writing practice.
I write in hotel rooms, the more corporate and anonymous, the better. I don't like B&B's where the owner knows my name and I have to interact with other guests. Give me a Hampton Inn, a Courtyard, a Hilton Garden Inn, a Hyatt Place. Give me the smell of diesel fuel from a nearby highway, a view of a rain-filled parking lot. They provide few distractions, and I have the additional incentive to not goof off so I don't waste my money. My favorite hotel location is Mt. Laurel which I have nicknamed Marriott, New Jersey. There are more than thirty hotels, a few of which usually have a sale. (Editor's note: You can do this too, via Murphy Writing!)
What are your favorite writing tools? Paper or computer? Are there special brands, papers, pens, etc. that are important to you?
For a dozen years or so, I could only write using a green ink felt tip pen on a yellow legal pad. Blue ink? Nope, can't do it. White legal pad? Impossible. It's amazing how many obstacles we can lay down in our "Craft or Sullen Art." Then for decades I wrote by hand in a journal, but my penmanship had gotten so bad that I couldn't read what I wrote, so now I use a laptop. At first it was strange, difficult, an excuse to not write, but now I love it. I can type almost as fast as I think and I can read it afterwards.
Tell us about your favorite experience reading for an audience.
The first time I read poems publicly was at an open mic at a bar in New York in 1969. When I finished, a drunk stood up and yelled, "Take it all off!"
What is the funniest/strangest response you've ever gotten to telling someone you are a poet?
I sat across from a woman on an airplane going from New York to Oklahoma. We started talking and eventually, I mentioned that I was a poet. "I love poetry," she said. We got married exactly a year later. A few months after, we were planning to go to a poetry reading when I noticed that my bride wasn't ready.
"We're going to be late," I said.
"I'm not going," she replied.
"Why not?"
"I don't like poetry."
"What????" I said, holding my chest.
"But I like you," she said taking my hands off my chest and squeezing them, "and I'll never get in the way." She told the truth about that. We just celebrated our 39th anniversary.

-+-+- -+-+-+- -+-+-
Good Grief
I wake from a nap where I dreamt I was crucified
upside down to find night has already fallen.
Like Edison, I am afraid of the dark.
Below the slot in my front door, a pile of envelopes—
A direct mail Jesus urges me to pray and donate.
Transunion wants to sell me my credit score.
Facing History insists I consider my moral choices.
I let my newspaper go when it misprinted
controlled thought as controlled throughout.
On television a bee wrangler deconstructs
why the queen is kept fat and happy at the expense
of workers who produce honey. Marx might object,
but didn't he say, I'm not a Marxist?
Einstein, I don't believe in mathematics?
Every three seconds someone writes a poem about love.
Six times an hour a dog gets hit by a car.
In seventeen minutes somebody else will be killed by a gun.
It's hard to remember that Amazon used to be a river.
The last time I felt this way this long Death stopped
at several houses in the neighborhood to ask for something sweet.
I want to believe the sun is a star and we spin around it.
I want to believe I have a soul that whirls on after death.
I want to believe that Marx at the Royal Buffet
would go light on the soup and rice, stuffing himself
instead on crab legs, pork, a heaping plate of the jumbo shrimp.

-Peter Murphy

from ETC., A Review of General Semantics, October, 2012