I know. You're thinking I've got that backwards, and perhaps I do.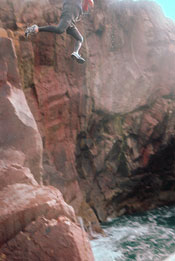 That's me in the picture jumping off a cliff in Wales into the Irish Sea. The locals call this extreme sport coasteering, and it is both brilliant and terrifying.
There sea was very rough on the last Saturday in August. The remnants of Hurricane Bill had kept our guide Alex off these cliffs for several days. "It should be all right," he said, but later I think he regretted it.
Once in the water we spent more time getting knocked against the rocks than we did jumping off them. It was impossible to climb out of the sea. The water was violent and cold. Alex said it was like a being in a toilet.
Finally he found a spot where he could haul us up using his safety rope. Then we climbed another 25 feet to jump. We would only have one chance. I was first.
I stood on the edge and looked down. That was a mistake. The sea was chaos breaking against the rock face below. I wanted to go home. I wanted to cry. Instead, I asked Alex to count down, and as he said, 3...2... I looked straight ahead and jumped out as far as I could.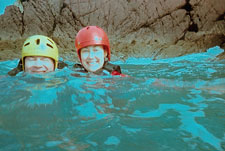 That's kind of how I write. I spend too much time knocking about and getting distracted until I finally climb up to the keyboard and jump in. I don't care if my first efforts are any good because I know I am going to revise them. But if I don't write that lousy first draft, I won't have anything to work on. I look straight ahead and keep working and try not to look down.
That's also how I run the poetry workshops at the Winter Poetry & Prose Getaway. We gather each morning to discuss a selection of poems before I send everyone off to write for two hours. In the afternoon, we workshop the new drafts, pointing out their virtues and making suggestions to strengthen their weaknesses.
Consider joining us in Cape May this January at the Getaway. The water is cold and brilliant and terrifying.
Until then, don't look down! Write swiftly. Revise slow!

Want to see the rest of the action? View our coasteering photos.

If you enjoyed this, pass it on! Share On: Twitter | Facebook

Return to Resources for Poets & Writers

© Murphy Writing of Stockton University ● May be reprinted for instructional use.