Murphy Writing of Stockton University and Swansea University Present
Dylan Thomas' Wales
A Getaway for Poets, Fiction and Nonfiction Writers
July 8-15, 2014 - Filled!
Swansea, Wales



***
The 2014 program has finished. Sign up for our email list to be notified about future dates and our other writing retreats.
***
Are you a writer who loves to travel? Join us this summer as we head to Wales to celebrate the 100th Anniversary of Dylan Thomas' birth. Thomas, one of the 20th century's most famous poets and Wales' most celebrated writer, is best known for his literature of place, often conjuring images of vast seascapes, remote villages and eccentric urban life. Immerse yourself in the literary landscape immortalized in his poetry and prose.
Get away to write and be inspired:
| | |
| --- | --- |
| ● | Advance your craft and energize your writing in supportive workshops |
| ● | Explore Wales, a spectacular, lesser known Celtic gem |
| ● | Enjoy an encouraging community and socializing with local writers |
You will take up residence on Swansea University's beachfront campus in a comfortable single room with a private bath. Swansea Bay's stunning coastal scenery will be on your doorstep, yet you will only be two miles from the city center which offers a thriving cultural scene and all the perks of city life.
This writing vacation, brought to you by the organizers of the Winter Poetry & Prose Getaway and led by award-winning author Peter Murphy, will offer challenging and supportive workshops, readings by local writers and time to soak in the atmosphere. Peter has led hundreds of workshops and retreats for writers and teachers. His unique prompts and insightful feedback have helped thousands find voice and direction. Whether you plan to begin new material or continue an ongoing project, you will return home from this unique adventure energized, with a substantial body of fresh writing and ideas on how to develop it.
In addition to stimulating writing workshops, you will have the chance to visit Swansea's cozy cafes and pubs, learn about the country's rich literary heritage and enjoy excursions along the beautifully rugged coastline to quaint villages, world-renown beaches and Dylan Thomas sites including his famed boathouse in Laugharne.
"I think you, Peter, are one of the best writing teachers around, certainly the best I've ever had, the proliferation of MFA programs notwithstanding. You create a space where writers can REALLY GROW, and my manuscript and I are very happy to have been in it for a week."
~ Kate, Memoir, New York, NY, 2010 Wales Getaway Participant
Welcome to Wales! / Croeso i Cymru! While Wales is often thought of as one entity with the rest of Britain, it is different in landscape, culture, tradition and language. Wales is a bilingual country; everyone speaks English but you will have fun learning to pronounce some Welsh basics and reading the signs which are written in both languages. A safe and modern country, Wales is a short flight from Europe and seven hours from the East Coast of the US.
In addition to Dylan Thomas, Wales' rich literary heritage includes connections to Roald Dahl, Bertrand Russell, Doctor Who and Hay-on-Wye, known as "The Town of Books." Wales has been inspiring poets and writers since the 6th century. Its breathtaking landscape introduced the legend of King Arthur, and Tintern Abbey is perhaps best known from Wordworth's great lyric poem.
You will be astounded by Wales' natural beauty. Like its better known Celtic neighbors, Ireland and Scotland, Wales is full of friendly people and beautiful open space to breathe. Just a short drive from Swansea, you will find flowery, green landscapes, rolling hills, dramatic waterfalls and rugged coastline.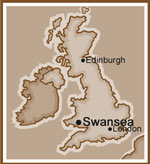 Did you know?
| | |
| --- | --- |
| ● | Swansea, with a population of a quarter million, is the second largest city in Wales and is on the shortlist to be the UK's next City of Culture. |
| ● | Swansea University is home to the Richard Burton Archives. |
| ● | Wales has 641 castles, 3 million people, 3 national parks and 11 million sheep. Bah... |
| ● | Wales was a pioneer of the "Eat Local" movement and its restaurants are proud to use fresh, locally sourced ingredients. |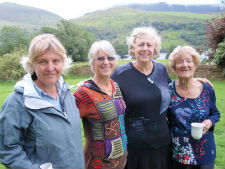 Using our exotic location in Wales, the workshop will focus on place—geographical, imaginative and emotional. Each day you will join Peter and your fellow writers to discuss craft issues around a packet of stories, poems and essays chosen to stimulate your imagination. This anthology will form the backbone of the conversation and will include work by classic and contemporary British and American authors including, of course, popular and lesser-known selections by Dylan Thomas. Peter will guide you through freewriting exercises relevant to the day's discussion and then give you one of his unique writing prompts and send you off to work.
Peter's assignments are designed to challenge you to stretch your imagination and produce new work that will surprise and please you. They are crafted to be effective whether you are starting a new poem or prose piece, or working on a long-term project such as a novel, memoir or other nonfiction manuscript. In fact, Jane Street Press has published Challenges for the Delusional, which features 20 of Peter's prompts with an anthology of the published poems they've inspired, including work by Pulitzer Prize winner Stephen Dunn, Dorianne Laux, Kathleen Graber and James Richardson.
Several times during the week, you will participate in supportive feedback sessions. You will have the opportunity to share your new writing, to reflect on what you wrote, get responses on what worked well and receive suggestions for strengthening the next draft.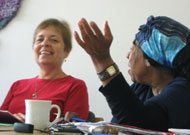 While different genres have different demands, Peter has found that fiction writers, nonfiction writers and poets can learn much about their own craft by working together in a mixed-genre workshop. For example, playing with dialogue, setting and point of view can make a poem more surprising and meaningful. Paying attention to compression, rhythm and sound can make a work of prose stronger and more credible.
"Peter Murphy is an inspirational force of nature! He is wonderful at fostering a warm, inviting environment in which writing comes easily. The writing community is blessed to have his leadership and presence."
~ 2013 Shore Thing Writing Getaway Participant
Afternoons are free for you to use as you wish:
| | |
| --- | --- |
| ● | Time to write. |
| ● | Stroll on the seaside promenade adjacent to campus. |
| ● | Visit Swansea's castle, markets, museums and "high street" shopping area. |
| ● | Explore the unspoiled countryside and sandy beaches where you can hike, swim, surf or simply relax. |
In the evenings you can continue writing, socialize or partake in Swansea's cultural scene and nightlife. You will even have the opportunity to participate in a local literary tradition: The Crunch, Swansea's long-running open mic.
Sample Daily Schedule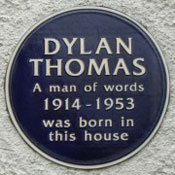 | | | |
| --- | --- | --- |
| | 8:00 a.m. | Breakfast |
| | 9:00 | Workshop |
| | 11:00 | Coffee Break |
| | 11:15 | Workshop |
| | 1:00 p.m. | Lunch |
| | 2:00 | Free Time for writing and other activities |
| | 6:00 | Dinner |
| | 7:00 | Free time |
Workshop Leader


Peter E. Murphy has led hundreds of workshops for writers and teachers. He was born in Wales and grew up in New York City where he operated heavy equipment, managed a nightclub and drove a cab. He is the author of seven books and chapbooks including Stubborn Child, a finalist for the 2006 Paterson Poetry Prize. His recent essays and poems appear in The Common, Diode, Guernica, The Hawaii Pacific Review, The Lindenwood Review, Mead, The New Welsh Reader, Passager, Rattle and Rhino. He has received fellowships and awards for writing and teaching from The Atlantic Center for the Arts, The Folger Shakespeare Library, The National Endowment for the Humanities, The New Jersey State Council on the Arts, Yaddo and the White House Commission on Presidential Scholars. Peter is the founder of Murphy Writing of Stockton University which includes the Winter Poetry & Prose Getaway and other programs for poets, writers and teachers. Read a brief interview with Peter.
Special Guests


Alan Bilton teaches literature, film and creative writing at Swansea University. He is the author of two novels, The Known and Unknown Sea (Cillian, 2014) and The Sleepwalkers' Ball (Alcemi, 2009), the latter described by one critic as "Franz Kafka meets Mary Poppins." He is also the author of Silent Film Comedy and American Culture (2013), An Introduction to Contemporary American Culture (2002) and co-editor of America in the 1920s (2004).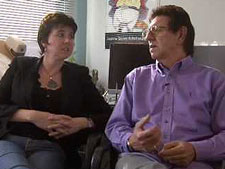 Joanna Quinn and Les Mills write, animate and produce creative and commercial films. Their first collaboration was the animated short Girl's Night Out, which introduced their recurring character Beryl and successfully launched Joanna's career as a world-class animator. Two of their films, Famous Fred (1996) and The Wife of Bath (1998) have received Oscar nominations. Joanna's masterpiece, Britannia, a brilliantly biting view of British Imperialism, won the prestigious Leonardo Da Vinci award, which ironically was presented by Prince Philip at Buckingham Palace. They are best known commercially for creating the Charmin Bear characters and commercials. They currently teach master classes are are working on pre-production for the next Beryl film in the "Dreams & Desires" series Affairs of the Art. Watch one of Joanna and Les' short films.
"Thank you. You did a great job in putting together a week well balanced in writing, workshopping and touring, but what made it really stand out was our involvement with the locals as we became part of the culture and experienced it from the inside."
~ Patricia, Fiction and Nonfiction, Allendale, NJ, 2013 Scotland Getaway Participant
You will be housed in comfortable student apartments, centrally located on the University of Swansea campus.
| | |
| --- | --- |
| ● | Each apartment has 8 en-suite bedrooms and a shared eat-in kitchen. |
| ● | You will have your own bedroom with a twin bed, private bathroom and a writing desk. |
| ● | Bed linens and towels will be provided, but there will not be a daily housekeeping service. |
| ● | Internet access is available throughout the campus and you will be able to use the University's coin operated laundry and computer labs. |
Several travelers typically bring non-participating guests. These guests are spouses, significant others, friends and family members. The standard set up is for a guests to have their own single room with private bath in a room adjoining yours. For couples, there are a limited number of shared rooms available on a first come, first served basis. Contact us for details.
The group will dine together for breakfast, lunch, most dinners as well as morning coffee breaks. Meals will be served buffet style with a variety of choices including vegetarian options. If you have dietary restrictions you will be able to indicate them on the registration form. Swansea University achieved recognition as Wales' first Fair Trade University in May 2004 and remains committed to incorporating Fair Trade products in all aspects of its catering. The University also uses locally sourced produce wherever possible to create a unique and truly mouthwatering menu that gives you a real flavor for Wales.
You will embark on two excursions to cultural and historical sites. While neither of the trips will be "extreme," they will involve walking and moderate physical activity. The trips will tie into the writing you are doing and will take you to:
Excursion 1: Swansea and Rhossili Bay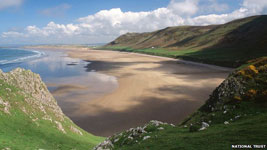 We will start with a walking tour of Swansea. Our guide will share literary, cultural and historical highlights to help you develop a sense of the place where you will be spending the week. Then we will head to Rhossili Bay, which is considered the third best beach in Europe according to a TripAdvisor survey. In Rhossili, you will have free time to enjoy the beach and village. Before heading home, you may choose to walk out on the magnificent Worm's Head or dine on fresh seafood at the gourmet Worm's Head Hotel with its spectacular cliff-top view.
Excursion 2: Dylan Thomas' Wales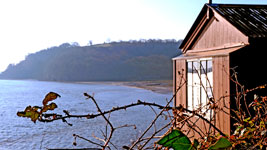 This literary excursion will start with a visit to Dylan Thomas' birthplace before heading to the Dylan Thomas Centre to view an exhibition on his life and work. Then the bus will head west to his famous Boathouse at Laugharne, where he composed Under Milkwood. You will have free time to explore the village and its castle. Before returning to Swansea, we will stop at a traditional pub where you can indulge in a Sunday roast or fish and chips.
"The program was one of the most enjoyable vacations I ever had. The friendships, the creativity, the entire experience of the workshop, guest speakers and excursions amounted to a trip I will never forget. It helped me as a writer, as a potential novelist, and I'll be back."
~ Walt M., Novelist, Linwood, NJ, 2009 Wales Getaway Participant
Swansea is on the coast and summer temperatures average a low of 58 to a high of 68 F, but it's not uncommon for it to be in the high 70s some days. July is the driest month but you will want to pack your "Mackintoshes" and "Wellies" just in case. With 16 hours of daylight, the sun will not set until 9:30 at night.
I write both poetry and fiction. Do I need to have a project in mind to attend?
No, a number of our participants write both poetry and prose. It's not uncommon for someone to decide what form their writing will take after Peter gives the prompt.
How big will the workshop be?
Our international writing retreats generally have about 15 participants. Plus several travelers typically bring non-participating guests.
I've been to dozens of workshops. What will I get out of this one?
Peter challenges experienced writers to push beyond their usual limits. If you have been writing for decades, he will compel you to go deeper, take more risks and experiment with form and content. We know that experienced writers benefit from our programs based on the fact that hundreds of "re-PETERs" have attended three or more of our writing getaways. Try one of Peter's prompts from Challenges for the Delusional.
I'm new to writing workshops. Will I fit in?
Absolutely! Peter's unique prompts will allow this supportive program to benefit both beginning and experienced writers. We pride ourselves on building an encouraging community of writers where all feel welcome.
"Attending was a big deal for me since I'd never been to a writing retreat before. It turned out to be fabulous—the atmosphere was perfect for writing and Peter was an excellent teacher. His lessons were unique and helped uncork my writing, getting me to think and use my writing time wisely. I highly enjoyed the trip and would recommend a Murphy Writing retreat to absolutely anybody, whether a novice or pro."
~ Michelle, Poetry, Huntsville, TX, 2012 Wales Getaway Participant
***
The 2014 program is filled. View photos from the retreat and sign up for our email list to find out about future writing retreats in the US and abroad.
***
Program Fee — $2,195 — includes the following: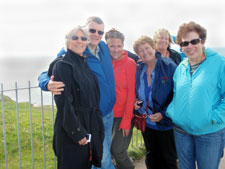 | | |
| --- | --- |
| ● | Writing workshop |
| ● | Accommodations for 7 nights/8 days (single room with private bath) in shared apartment |
| ● | 17 meals: 7 breakfasts, 6 lunches, 4 dinners |
| ● | Morning coffee breaks during the writing workshop |
| ● | Pick up and return transportation from Swansea bus station |
| ● | 2 excursions (Transportation, admissions, tours and gratuities. A brown bag lunch will be provided on excursion days. Both trips will offer a dinner stop which is not included in this fee.) |
| ● | Cultural activities including readings with local writers |
| ● | Use of Swansea University library and computers |
| ● | Private trip website providing travel recommendations and a packing list |
| ● | Suggested itineraries for additional travel in Wales and London |
Fees do not include airfare, transportation to Swansea, college credit, additional meals, additional gratuities or personal expenses.
Take advantage and save:
● "re-PETER" Discount ($75 off) if you've attended any of our other programs!
Several travelers typically bring spouses, significant others, friends or family members. The standard set up is for a guest to be in an adjoining room. For couples, there are a limited number of shared rooms available on a first come, first served basis. Contact us for details.
Guest fee: $1,195 — Includes everything above except the workshop.

Scholarships
We are offering a $1,000 scholarship to a first-time participant in one of Murphy Writing's international programs. A panel of judges will review the submissions and make their selections based on a combination of merit and need. Application Deadline: Mar. 15, 2014.
4/4/14 Update: Congratulations to our scholarship recipient! It was a tough choice, but after considering more than 20 applications, the panel has selected Caitlin Reid from Washington, DC. We look forward to writing with her in Wales.

The Fine Print
● To receive the "Early Bard" Discount ($75 off), you must pay in full by Apr. 1
● To receive the "re-PETER" Discount ($75 off), you must have attended at least one of our other programs
● A $500 non-refundable deposit is required to reserve your place
● Balance due in full by May 1
● Change Fee ($25) will be charged to make changes to your registration after May 1
● Discounts are not available for guest fees
● Registration deadline: June 1
Cancellation Policy
● By Mar. 15 — 100% refund minus non-refundable $500 deposit
● By May 1 — 50% credit toward one of our upcoming programs
● After May 1 — Sorry, no refund will be issued
Workshop size is strictly limited.
Our programs fill quickly.
Register today. You won't regret it.
For maximum flexibility, airfare is not included. You will be responsible for making your own round-trip travel arrangements which will allow you to choose your airports and make it easy to extend your trip. We will assist you in identifying budget-conscious flights. For best fares, you should purchase your ticket in the spring, no later than May 1.
Arrival: Tuesday, July 8. The program is designed so you can arrive in the UK the morning the writing retreat begins. We recommend you fly to London Heathrow Airport. If you are flying from the US, depart on the evening of July 7 and you will land early the next morning. We suggest you arrive in the UK by 9 a.m. so you have time to retrieve your luggage and clear customs.
If you wish to take advantage of our transportation to campus, plan to arrive at Swansea bus station by 3:15 p.m. The 11:10 a.m. bus direct from London Heathrow will get you there in time. We will post details on how to book the suggested airport transfers approximately one month before the program.
Departure: Tuesday, July 15. We will depart campus at 11:30 a.m. after the closing workshop and drop you off at Swansea bus (or train station) so you can make the 12:15 p.m. bus that will get you to Heathrow at 4:35 p.m. Should you wish to fly home that day, we recommend a 7:00 p.m. or later departure. Or, if you wish to extend your trip, you can book your onward travel for anytime after 12:10 p.m. (via bus) or 12:20 p.m. (via train) to give yourself some leeway. We will offer you suggested itineraries for additional travel in Wales and London.
Travel Note: You will have access to our private trip website, which will provide you with additional travel recommendations. We will also provide the opportunity to connect with other participants before the writing retreat. Each year this leads to people traveling together before and after the retreat. This can be especially helpful if you are not an experienced overseas traveler.
You will need a passport, but US citizens will not need a visa to enter the UK. Double check that your passport is up to date, and if not, renew it today! You may also want to buy travel insurance to protect yourself before and during your trip, but we do not require it.
Take a look at the photos from our most recent international writing retreat or view our full collection of Writing Getaway photos.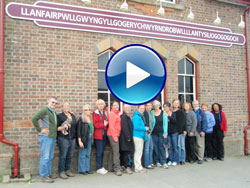 View video highlights of our 2012 writing retreat in Wales, created by participant Nicole Zuckerman. Mae fy hofrenfad yn llawn llyswennod. Try and say that three times fast.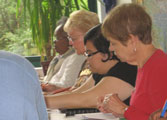 "I thought the feedback would be the most valuable part of the workshop, but actually it was the prompts and the new material they led me to write. I accomplished everything I set out to do and devised a plan for finishing my manuscript. I feel freed—thank you!"
~ Terri, Novelist, Philadelphia, PA
"I came to write, and Wales was a super setting in which to do it. I am impressed with your knowledge and the breadth of your experience, Peter, and I am thankful for the community of writers I encountered at the Wales Getaway!"
~ Merrill, Memoir & Poetry, Middlesfield, CT

"Peter, you strike a balance I find most helpful and enjoyable, between drawing out our responses and knowledge and offering your own input. Thank you so much for another wonderful week in Wales. I hope it's not the last!"
~ Bobbie, Poetry, Chatham, NJ, Two time Wales Getaway participant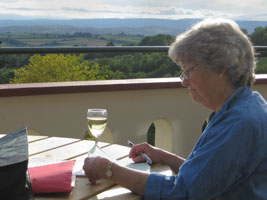 "The program couldn't have been better. I especially enjoyed the feedback sessions, with their warm atmosphere and an environment of trust which helped us listen to each other, to really hear what the reader was saying and venture a thought or two. Thank you for everything."
~ Belinda, Short Fiction & Memoir, Barcelona, Spain
"The fun and engaging prompts encourage writers, and there's a great sense of caring for the individual. Thank you for giving me the excuse/opportunity to write and at the same time visit a part of the world I wouldn't otherwise see."
~ Barbara, Nonfiction and Poetry, Summit, NJ
Participants will receive a professional development certificate of participation. Stockton University is recognized by the New Jersey Department of Education to provide Professional Development credit hours, which many other states are willing to accept. You may check with your employer to see if it will work for you.
Call 609-626-3594 or email info@murphywriting.com.
***
The 2014 program is filled. We travel to a different destination each summer. Sign up for our email list to find out about future writing retreats.
***