Murphy Writing of Stockton University Presents
Get Away to Write - Spain
A Getaway for Poets and Writers
July 11-18, 2017
Tavertet, Spain
***
2015 program information below. 2017 registration will open January 25, 2017. Sign up for our email list for a reminder.
***
Are you a writer who loves to travel? Join us this summer in beautiful northern Spain to immerse yourself in a supportive week-long writing experience that will energize and inspire you. Enjoy encouraging workshops, plentiful writing time, panoramic cliff top views and excursions to Barcelona and the town of Vic, where the outdoor market dates back to the 9th century.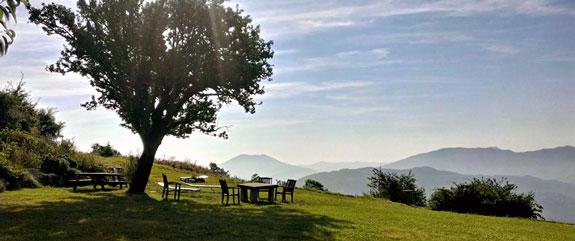 Get away to write and be inspired:
| | |
| --- | --- |
| ● | Advance your craft and energize your writing in supportive workshops |
| ● | Explore Spain and its spectacular landscape and culture |
| ● | Enjoy an encouraging community and time to recharge |
You will take up residence at l'Avenc, a beautiful rural hotel with stunning cliff top views and a rich history dating back to the 13th century. This recently renovated retreat center, which has a 5-star TripAdvisor rating and has won awards for its sustainability practices, offers both single and double rooms. This summer, experience living in a place where you can reconnect with yourself and your writing, a place where time slows. Bask in the tranquility and silence of rural Spain. Your writing will thank you.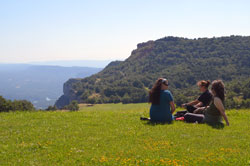 This writing vacation, brought to you by the organizers of the Winter Poetry & Prose Getaway and led by award-winning author Peter Murphy, will offer challenging and supportive workshops, readings by local writers and time to soak in the atmosphere. Peter has led hundreds of workshops and retreats for writers and teachers. His unique prompts and insightful feedback have helped thousands find voice and direction. Whether you plan to begin new material or continue an ongoing project, you will return home from this unique adventure energized, with a substantial body of fresh writing and ideas on how to develop it.
"The relaxed but well-structured workshop was the key to a superb experience. Peter makes you feel comfortable to write freely, to reflect and to acquaint yourself with your surroundings."
~ Maria Luisa, Fiction & Memoir, Rose Valley, PA, 2014 & 2015 International writing retreat participant
¡Bienvenido a España! Welcome to Spain! For centuries, Spain has inspired writers and artists to create their greatest masterpieces. Some of the best-known include: painter Salvador Dali; architect Antoni Gaudi; and writers Miguel Cervantes, Ernest Hemingway, Garcia Lorca and George Orwell. Barcelona is home to the Dali museum and La Sagrada Família, Gaudi's famous cathedral that was started in 1882 and is finally scheduled for completion in 2026, a century after his death. Scores of other artists and writers have called Spain their home and left their mark on its rich heritage.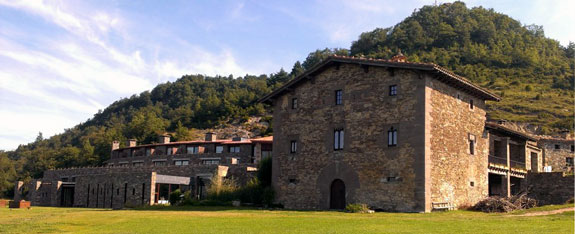 With miles of beaches and more than 300 sunny days per year, Spain is a Mediterranean paradise. It is the second most mountainous country in Europe with panoramic views overlooking exquisite valleys. The culture is as diverse as the geography, and pride in their homeland is evident in the character and welcoming atmosphere of every Spaniard. While in Spain, you can enjoy visiting Roman temples, Moorish palaces, medieval castles and some of the best restaurants in the world. From the modern to the ancient, the mountains to the sea, Spain offers room for adventure, contemplation and awe.
Did you know?
| | |
| --- | --- |
| ● | The quill pen is thought to have originated in Spain 1,400 years ago |
| ● | The Spanish Empire was once the world's most powerful country |
| ● | Spanish food is known for being flavorful but is rarely spicy hot |
| ● | Though Spain is known for its red wine, most of its vineyards have white grapes |
Taking inspiration from the exotic location in Spain, the workshop will focus on identity, independence and transformation. Each day you will join Peter and your fellow writers to discuss craft issues around a packet of stories, poems and essays chosen to stimulate your imagination. This anthology will form the backbone of the conversation and will include work by classic and contemporary Spanish, Catalan and American authors. Peter will guide you through freewriting exercises relevant to the day's discussion and then give you one of his unique writing prompts and send you off to work.
Peter's assignments are designed to challenge you to stretch your imagination and produce new work that will surprise and please you. They are crafted to be effective whether you are starting a new poem or prose piece, or working on a long-term project such as a novel, memoir or other nonfiction manuscript. In fact, Jane Street Press has published Challenges for the Delusional, which features 20 of Peter's prompts with an anthology of the published poems they've inspired, including work by Pulitzer Prize winner Stephen Dunn, Dorianne Laux, Kathleen Graber and James Richardson.
While different genres have different demands, Peter has found that fiction writers, nonfiction writers and poets can learn much about their own craft by working together in a mixed-genre workshop. For example, playing with dialogue, setting and point of view can make a poem more surprising and meaningful. Paying attention to compression, rhythm and sound can make a work of prose stronger and more credible.
"Peter Murphy is an inspirational force of nature! He is wonderful at fostering a warm, inviting environment in which writing comes easily. The writing community is blessed to have his leadership and presence."
~ 2013 Shore Thing Writing Getaway Participant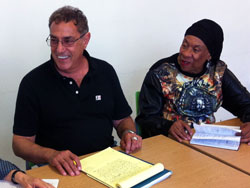 Feedback sessions
Three times during the week, you will participate in supportive feedback sessions. You will have the opportunity to share your new writing, to reflect on what you wrote, get responses on what worked well and receive suggestions for strengthening the next draft. You will have one feedback session with each of our faculty–Peter, Roberta and Christine. (Bios below.)
Schedule
Mornings will be devoted to the workshop, which includes guided discussions, freewriting and feedback sessions. Afternoons and evenings are free for you to use as you wish:
| | |
| --- | --- |
| ● | Write to your heart's content |
| ● | Soak in the breathtaking view and revitalizing mountain air |
| ● | Relax by l'Avenc's beautiful indoor pool |
| ● | Watch exotic birds in flight from your private patio |
| ● | Explore the pristine countryside on one of the rental bicycles or hike along the cliffs to a nearby lookout where you can see from the Mediterranean to Montserrat |
Sample daily schedule
| | | |
| --- | --- | --- |
| | 8:00 a.m. | Breakfast |
| | 9:00 | Workshop and feedback sessions (Break for refreshments at 11:00 a.m.) |
| | 1:00 p.m. | Lunch |
| | 2:00 | Free time for writing and other activities |
| | 4:00 | Afternoon refreshments |
| | 7:00 | Dinner |
| | 8:00 | Free time |
View the full schedule.
"I think you, Peter, are one of the best writing teachers around, certainly the best I've ever had, the proliferation of MFA programs notwithstanding. You create a space where writers can REALLY GROW, and my manuscript and I are very happy to have been in it for a week."
~ Kate, Memoir, New York, NY, 2010 International writing retreat participant
Workshop Leader


Peter E. Murphy has led hundreds of workshops for writers and teachers. He was born in Wales and grew up in New York City where he operated heavy equipment, managed a nightclub and drove a cab. He is the author of seven books and chapbooks including Stubborn Child, a finalist for the 2006 Paterson Poetry Prize. His recent essays and poems appear in The Common, Diode, Guernica, The Hawaii Pacific Review, The Lindenwood Review, Mead, The New Welsh Reader, Passager, Rattle and Rhino. He has received fellowships and awards for writing and teaching from The Atlantic Center for the Arts, The Folger Shakespeare Library, The National Endowment for the Humanities, The New Jersey State Council on the Arts, Yaddo and the White House Commission on Presidential Scholars. Peter is the founder of Murphy Writing of Stockton University which includes the Winter Poetry & Prose Getaway and other programs for poets, writers and teachers. Read a brief interview with Peter.
Additional Faculty - Feedback Session and Tutorial Leaders


Roberta Clipper has published two novels-in-stories under the name Robbie Clipper Sethi, The Bride Wore Red (Picador, 1997) and Fifty-Fifty (Silicon Press, 2003), as well as short stories in The Atlantic Monthly, Mademoiselle, the Philadelphia Inquirer and a number of literary magazines and anthologies. Her fiction has won a National Endowment for the Arts award and two fellowships from the New Jersey State Council on the Arts. Robbie teaches fiction, poetry, expository writing and literature at Rider University in Lawrenceville, NJ and on a Fulbright-Nehru Fellowship spent a "monsoon semester" (August-December 2009) teaching creative writing at the International Institute of Information Technology in Hyderabad, India. To read some of her work, visit robbieclippersethi.com.

Christine E. Salvatore received her MFA from The University of New Orleans. She currently teaches literature and creative writing at The Richard Stockton College of New Jersey, Egg Harbor Township High School and in the MFA Program at Rosemont College. One of her poems was chosen by the editors of The Southeast Review as a finalist in this year's Gearhart Poetry Contest. Her poetry has recently appeared or will appear in Mead Magazine, The Literary Review, The Cortland Review, Prime Number Magazine and in The Edison Literary Review, as well as others. She is the recipient of a 2005 Fellowship from the New Jersey State Council of the Arts. Listen to Christine reading some of her poetry.
"Thank you. You did a great job in putting together a week well balanced in writing, workshopping and touring, but what made it really stand out was our involvement with the locals as we became part of the culture and experienced it from the inside."
~ Patricia, Fiction and Nonfiction, Allendale, NJ, 2013 International writing retreat participant
You will have the option to select a private single room or share with another person.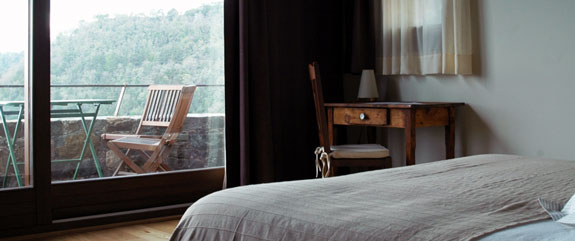 | | |
| --- | --- |
| ● | Most rooms have private bathrooms and stunning views |
| ● | Each room has a writing desk and an outdoor patio or terrace |
| ● | There is a common sitting room where you can enjoy wi-fi internet access |
If you would like to bring a spouse, significant other, friend or family member, these non-participating guests are welcome to share your room and attend all activities other than workshops.
Rooms will be assigned on a first-come, first-served basis. Register early to get your first choice!
L'Avenc's nutritious meals focus on fair trade, local and organic ingredients. The mouthwatering menu will give you a real flavor for the cuisine of the region. Meals will be served buffet style with a variety of choices including vegetarian options, and one night the group will dine off-site at a nearby restaurant. If you have dietary restrictions you will be able to indicate them on the registration form.
You will have the opportunity to participate in a number of cultural activities and excursions, which will help you develop a sense of the place where you will be spending the week. The La Collsacabra region, which is off the well-worn tourist path, is part of Catalonia. It shares many traits with Spain yet maintains a distinct identity of its own. While none of our excursions will be "extreme," they will involve walking and moderate physical activity.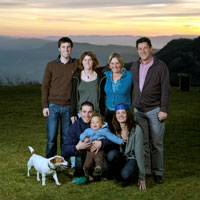 Introduction to Catalan Culture and Language
L'Avenc, the retreat center, is run by the Parris family. Belinda Parris will welcome us with an overview of the Catalan culture. She will acquaint you with some basic pronunciation and teach you a handful of Catalan words.
Historic "Masia" House Tour
While the oldest part of l'Avenc dates back to the 13th century, the primary architectural influence is from the 16th century. The Parris family discovered the abandoned ruins of l'Avenc while hiking in 1997. Looking back they describe it as "brave or foolish enough to fall in love with it," to buy, restore and expand it into a rural eco-friendly hotel. In 2013, they added a modern wing with an indoor pool, more hotel rooms, common areas and workshop rooms. The Parris family will open up the private section of l'Avenc, their home, and share its history and their story on how they saved this beautiful historical site.
Special Guest Session


We are pleased to announce that writer Gemma Gorga will be our special guest, joining us for lunch and a reading during the retreat. Gemma has published five collections of poetry, most recently Diafragma (2012, with photographer Joan Ramell). She has also published a book of nonfiction, Within the Natural Kitchen: Health, Tradition and Pleasure at the Table (2004, with Antoni Lozano). Following a residency with the Sanskriti Foundation in New Delhi, she translated the contemporary anglophone Indian poet Dilip Chitre (Vint esmorzars cap a la mort, Twenty Breakfasts Towards Death, 2013). Her poems, translated into English, have been included in Pere Ballart's anthology Six Catalan Poets (2013). Gemma has a PhD in Philology from the University of Barcelona, where she teaches Ancient Literature.
Excursion to Vic and Monastery of Sant Pere de Casserres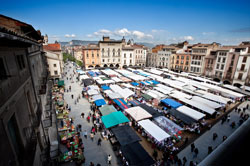 Halfway between the Mediterranean and the Pyrenees, the city of Vic is considered the heart of the Catalan region. Tradition and modernity coexist in this medieval city. You will enjoy a walking tour of the city center and have free time to visit the open air market, which dates back to the 9th century. You will eat lunch at a local restaurant before heading to an 11th century Benedictine monastery, which offers beautiful views of the nearby river valley.
Barcelona Bus Tour
You will depart l'Avenc after breakfast and take in the sites of Barcelona. After reaching the city, you will have the opportunity to stretch your legs and take photos. Then you will enjoy a bus tour of the city that points out some of the best-known sites including La Sagrada Família and Las Ramblas. At the end of the bus tour, you can take advantage of either drop off option–La Placa Catalunya for those staying the night (or longer) in Barcelona, or El Prat Airport.
"The program was one of the most enjoyable vacations I ever had. The friendships, the creativity, the entire experience of the workshop, guest speakers and excursions amounted to a trip I will never forget. It helped me as a writer, as a potential novelist, and I'll be back."
~ Walt, Novelist, Linwood, NJ, 2013 & 2009 International writing retreat participant
July is one of the warmest months with average temperatures in the low 80s during the day and 60s at night. You will enjoy long, sunny, summer days and can expect 15 hours of daylight, as the sun won't set until 9:30 pm.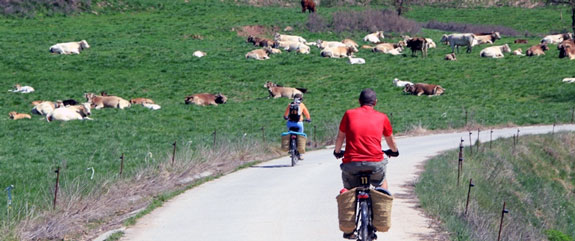 If you are looking for more feedback on your writing, you will have the option to add a one-on-one tutorial which will offer a constructive critique on a work in progress. These one-on-one-sessions will last 30 minutes and you may request general feedback or seek assistance on a specific question or problem you are having. Led by: Roberta Clipper for prose and Christine E. Salvatore for poetry.
| | |
| --- | --- |
| ● | You and your tutor will select a mutually convenient time during the week. |
| ● | No need to send your writing ahead of time; the tutors are experienced at providing constructive and supportive feedback in the time allocated. |
| ● | You may choose to bring something you wrote before the retreat or something you write during the week. |
| ● | Fee: $100 for a 30 minute one-on-one session |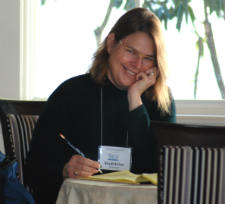 I write both poetry and fiction. Do I need to have a project in mind to attend?
No, a number of our participants write both poetry and prose. It's not uncommon for someone to decide what form their writing will take after Peter gives the prompt.
How big will the workshop be?
Our international writing retreats generally have 15-20 participants. Plus several travelers typically bring non-participating guests.
I've been to dozens of workshops. What will I get out of this one?
Peter challenges experienced writers to push beyond their usual limits. If you have been writing for decades, he will compel you to go deeper, take more risks and experiment with form and content. We know that experienced writers benefit from our programs based on the fact that hundreds of "re-PETERs" have attended three or more of our writing getaways. Try one of Peter's prompts from Challenges for the Delusional.
I'm new to writing workshops. Will I fit in?
Absolutely! Peter's unique prompts will allow this supportive program to benefit both beginning and experienced writers. We pride ourselves on building an encouraging community of writers where all feel welcome.
"Attending was a big deal for me since I'd never been to a writing retreat before. It turned out to be fabulous—the atmosphere was perfect for writing and Peter was an excellent teacher. His lessons were unique and helped uncork my writing, getting me to think and use my writing time wisely. I highly enjoyed the trip and would recommend a Murphy Writing retreat to absolutely anybody, whether a novice or pro."
~ Michelle, Poetry, Huntsville, TX, 2012 International writing retreat participant
***
The 2015 program is filled. 2017 registration will open January 25, 2017. Sign up for our email list for a reminder.
***
2015 Program Fee — As low as $2,115 — Includes the following:
| | |
| --- | --- |
| ● | Writing workshop and feedback sessions |
| ● | Accommodations for 7 nights/8 days |
| ● | 20 meals: 7 breakfasts, 6 lunches, 7 dinners |
| ● | Morning and afternoon refreshments on non-excursion days |
| ● | Round trip transportation from El Prat Airport in Barcelona |
| ● | 3 cultural activities and 2 excursions (Transportation, admissions, tours and gratuities. A brown bag lunch will be provided on one of the excursion days. The other will offer a lunch stop which is not included in this fee.) |
| ● | Use of wi-fi, pool, sitting rooms, library, gardens and hiking trails |
| ● | Private trip website providing travel recommendations and a packing list |
Room Package Options
| | |
| --- | --- |
| ● | Program Fee with Double Room Package - $2,190 - A double room can be a great way to save money. Let us know if you'd like us to match you with a roommate. |
| ● | Program Fee with Single Room Package - $2,490 |
| ● | Program Fee with Shared Room Package (With non-participating guest) - $3,590 - If you are bringing a guest, they may join us for meals and all non-workshop activities. |
Fees do not include airfare, college credit, one-on-one tutorials, travel insurance, additional accommodations, meals, gratuities or personal expenses.

Save as much as $150!
● "Early Bard" Discount ($75) if you pay in full by Apr. 1
● "re-PETER" Discount ($75) if you've attended any of our other programs!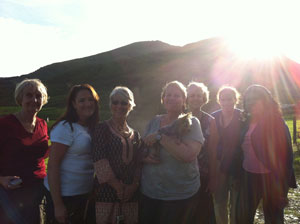 Scholarships
We are offering a $1,000 scholarship to a first-time participant in one of Murphy Writing's international programs. A panel of judges will review the submissions and make their selections based on a combination of merit and need. Application Deadline: March 9, 2015, and the recipient will be announced on this page by March 29, 2015.
4/3/15 Update: Congratulations to our scholarship recipient! It was a tough choice, but after considering more than 25 applications, the panel has selected Heather Lang of Seattle, WA. We look forward to writing with her in Spain.

Registration Options
The Fine Print
● To receive the "Early Bard" Discount ($75), you must pay in full by Apr. 1
● To receive the "re-PETER" Discount ($75), you must have attended at least one of our other programs
● A $500 non-refundable deposit is required to reserve your place
● Balance due in full by May 1. If you register after May 1, your full payment is due when you register.
● Change Fee ($25) will be charged to make changes to your registration after May 1
● Discounts are not available for guest fees
Cancellation Policy
● By Mar. 15 — 100% refund minus non-refundable $500 deposit
● By May 1 — 50% credit toward one of our upcoming programs
● After May 1 — Sorry, no refund will be issued
Workshop size is strictly limited.
Our programs fill quickly.
Register today. You won't regret it.
"My time in Wales was definitely worth every penny."
~ Louisa, Memoir and Personal Essay, Washington, DC, 2014 International writing retreat participant
For maximum flexibility, airfare is not included. You will be responsible for making your own round-trip travel arrangements which will allow you to choose your airports and make it easy to extend your trip. We will assist you in identifying budget-conscious flights. For best fares, you should purchase your ticket in the spring, no later than May 1.
It is very important that you follow these suggested times. The retreat location is approximately 2 hours from the airport and very rural. If you do not follow these times, you will need to make your way there on your own, which you will find very difficult to do without renting a car.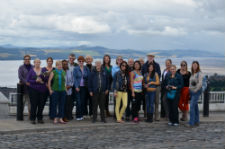 Arrival: Tuesday, July 14. The program is designed so you can arrive in Spain the day the retreat begins. We recommend you fly to El Prat Airport in Barcelona. If you are flying from the US, depart on the evening of July 13 and you will land early the next morning. We suggest you arrive at the airport by 10:00 am so you have time to clear customs, pick up your luggage and meet the group at 11:45 am. If you wish to arrive in the country prior to July 14, plan to make your way to the airport in time to meet the group. We will send details on where to meet at the airport and emergency contact numbers approximately two weeks before the program.
Departure: Tuesday, July 21. We will depart after breakfast and head to Barcelona. We will make a brief stop when we reach Barcelona to stretch our legs and take photos. Then we will enjoy a bus tour of the city that points out some of the best known sites including La Sagrada Familia and Las Ramblas. At the end of the bus tour, we will offer two drop off options, approximately 1:15 pm at La Placa Catalunya for those staying the night in Barcelona and 2:00 pm at El Prat Airport.
Do not book a flight before 5:00 pm on July 21. Most flights to the US depart in the morning. If you can't book a flight after 5:00 pm, plan to stay the night in Barcelona and fly out the next day, July 22. If you plan to stay the night (or longer) in Barcelona, consider hotels in the Eixample neighborhood, which is a short walk from La Placa Catalunya, has many good hotel options and offers easy access to public transportation.
Travel Note: You will have access to our private trip website, which will provide you with additional travel recommendations. We will also provide the opportunity to connect with other participants before the writing retreat. Each year this leads to people traveling together before and after the retreat. This can be especially helpful if you are not an experienced overseas traveler.
You will need a passport, but US citizens will not need a visa to enter Spain. Double check that your passport is up to date, and if not, renew it today! You may also want to buy travel insurance to protect yourself before and during your trip, but we do not require it.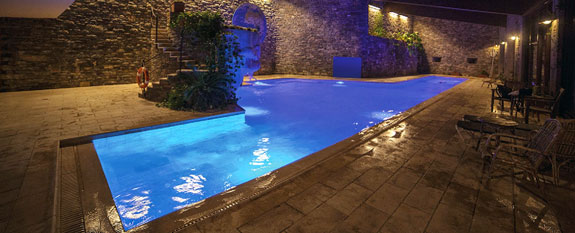 Take a look at the photos from our most recent international writing retreat or view our full collection of Writing Getaway photos.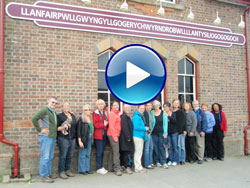 View video highlights of our 2012 writing retreat in Wales, created by participant Nicole Zuckerman. Mae fy hofrenfad yn llawn llyswennod. Try and say that three times fast.
"I thought the feedback would be the most valuable part of the workshop, but actually it was the prompts and the new material they led me to write. I accomplished everything I set out to do and devised a plan for finishing my manuscript. I feel freed—thank you!"
~ Terri, Novelist, Philadelphia, PA, 2009 International writing retreat participant
"I came to write, and Wales was a super setting in which to do it. I am impressed with your knowledge and the breadth of your experience, Peter, and I am thankful for the community of writers I encountered at the Wales Getaway!"
~ Merrill, Memoir & Poetry, Middlesfield, CT, 2009 International writing retreat participant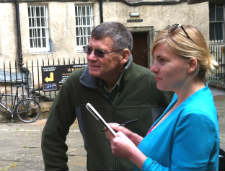 "Peter, you strike a balance I find most helpful and enjoyable, between drawing out our responses and knowledge and offering your own input. Thank you so much for another wonderful week in Wales. I hope it's not the last!"
~ Bobbie, Poetry, Chatham, NJ, 2009 and 2010 International writing retreat participant
"The program couldn't have been better. I especially enjoyed the feedback sessions, with their warm atmosphere and an environment of trust which helped us listen to each other, to really hear what the reader was saying and venture a thought or two. Thank you for everything."
~ Belinda, Short Fiction & Memoir, Barcelona, Spain, 2012 International writing retreat participant
"The fun and engaging prompts encourage writers, and there's a great sense of caring for the individual. Thank you for giving me the excuse/opportunity to write and at the same time visit a part of the world I wouldn't otherwise see."
~ Barbara, Nonfiction and Poetry, Summit, NJ, 2013 International writing retreat participant
Participants will receive a professional development certificate of participation upon request. Stockton University is recognized by the New Jersey Department of Education to provide Professional Development credit hours, which many other states are willing to accept. You may check with your district or employer to see if it will work for you.

Questions? Call 609-626-3594 or email info@murphywriting.com.