Murphy Writing of Stockton University and Dante Hall Theater Present
Shore Thing Writing Getaway
A One Day Retreat for Poets and Writers

Saturday, June 24, 2017
9:15 a.m. - 4:30 p.m.
Dante Hall Theater, Atlantic City, NJ
Treat yourself to a writing retreat at the shore. Down the block from Atlantic City's famous beach and boardwalk, this affordable workshop will energize and inspire you. Head home with sand between your toes, a few new pieces of writing and the glow that comes from spending the day with an encouraging community of writers.
"I was surprised at how easily the writing came to me in this setting! I really enjoyed the unique writing prompts and the opportunity to share my work with my group."
~ Shore Thing Writing Getaway Participant

Space is limited.
Our programs fill quickly.
Register today so you're not disappointed!


Workshop | Schedule | Faculty | Location | FAQ | Registration | Travel
Join us for this boardwalk-inspired getaway, designed for writers of fiction, creative nonfiction and poetry. Trigger your imagination and compose new work that will surprise and please you. Spend the day immersed in the literary life: discussing writing, doing your own writing and sharing some of your new drafts. This is not a gamble. This is a shore thing.
"Re-PETERs" welcome! Prompts, readings and craft discussion will differ each time.
| | | |
| --- | --- | --- |
| | 9:15 a.m. | Arrive and sign in |
| | 9:30 | Welcome and Craft Discussion |
| | 10:45 | Prompt #1 Writing Time |
| | 12:15 p.m. | Lunch |
| | 1:00 | Prompt #2 Writing Time |
| | 3:00 | Share Around |
| | 4:30 | Head Home or DO AC |

Peter E. Murphy has led hundreds of workshops for writers and teachers. He was born in Wales and grew up in New York City where he operated heavy equipment, managed a nightclub and drove a cab. He is the author of seven books and chapbooks including Stubborn Child, a finalist for the Paterson Poetry Prize. His recent essays and poems appear in The Common, Diode, Gravel, Guernica, Hayden's Ferry Review, The Lindenwood Review, The New Welsh Reader, Rattle, Word Riot and elsewhere. He has received fellowships and awards for writing and teaching from The Atlantic Center for the Arts, The Folger Shakespeare Library, The National Endowment for the Humanities, The New Jersey State Council on the Arts, Yaddo and the White House Commission on Presidential Scholars. Peter is the founder of Murphy Writing of Stockton University which includes the Winter Poetry & Prose Getaway and other programs for poets, writers and teachers. Enjoy a brief interview with Peter and read some of his work at peteremurphy.com.
The Shore Thing Writing Getaway will take place at Dante Hall Theater, Stockton University's 1920s restored theater, down the block from Atlantic City's famous beach and boardwalk. Located at the foot of the AC Expressway in the heart of Atlantic City's historic Ducktown neighborhood, Dante Hall Theater is just 75 minutes from Philadelphia, 100 minutes from Princeton and just over 2 hours from North Jersey and New York. See the Travel section below for the address, directions and parking info.
If you would like to DO AC, here are options to consider:
● Swim at one of Atlantic City's free beaches.
● Walk on the Boardwalk.
● Shop at the Tanger outlets—The Walk.
● Explore AC's nightlife.
● Join a new writer friend or two for dinner.
I haven't attended a mixed genre workshop before. How will I benefit from this program?
While different genres have different demands, Peter has found that fiction writers, nonfiction writers and poets can learn much about their own craft by reading, discussing and experimenting with the craft of others. For example, playing with dialogue, setting and point of view can make a poem more surprising and meaningful. Paying attention to compression, rhythm and sound can make a work of prose stronger and more credible.
I write both poetry and fiction. Do I need to have a project in mind to attend?
No, a number of our participants write both poetry and prose. It's not uncommon for someone to decide what form their writing will take after Peter gives the prompt.
I'm new to writing workshops. Will I fit in?
Absolutely! Peter's unique prompts will allow this supportive program to benefit both beginning and experienced writers. We pride ourselves on building an encouraging community of writers where all feel welcome.
I've been to dozens of workshops. What will I get out of this one?
Peter challenges experienced writers to push beyond their usual limits. If you have been writing for decades, he will compel you to go deeper, take more risks and experiment with form and content. We know that experienced writers benefit from our programs based on the fact that hundreds of "re-PETERs" have attended three or more of our writing getaways.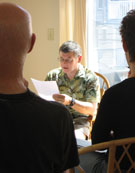 Tuition for June 24 — $80
Includes an Atlantic City sub, salad and soft drink for lunch.
Take advantage and save:
● "re-PETER" Discount ($10 off) if you've attended any of our other programs
● Stockton Discount ($40 off) for students, alumni, faculty, adjuncts or staff

Register Online



Register online to pay by credit card.
Please note: If you have trouble registering online, or if you don't receive an email confirming your online registration within 24 hours, call us at 609-626-3594 or email us at info@murphywriting.com.

-+-+- -+-+-+- -+-+--
The Fine Print
● Full fee due upon registration
● "re-PETER" Discount ($10 off) if you've attended any of our other programs
● Stockton Discount ($40 off) for students, alumni, faculty, adjuncts or staff
● Sorry, only one discount per person
● Change Fee ($25) will be charged to make changes to your registration after August 20

Cancellation Policy
● By June 10 — 50% credit toward one of our upcoming programs
● After June 10 — No refund

Scholarships
We are not currently offering scholarships for this program. Sign up for our email list to be notified about future scholarship opportunities.

Space is limited.
Our programs fill quickly.
Register today so you're not disappointed!

"I loved how welcoming the retreat was. I truly felt among a community of writers rather than people promoting themselves. The workshop was encouraging and informative. I'm really looking forward to the next one."
~ Jenna, Lanoka Harbor, NJ

-+- Register now for the Shore Thing Writing Getaway -+-
Dante Hall Theater
14 North Mississippi Avenue
Atlantic City, NJ 08401
Parking
We suggest you park in The Wave Garage which is one block from the theater and charges $10/day on weekends. As you leave the AC Expressway, turn right on Baltic Avenue and the garage will be on that block on your left. To go directly to the Wave Garage, enter this address in your GPS: 2200 Fairmount Ave, Atlantic City, NJ 08401. Limited free street parking may be available according to posted signs.
Driving Directions
From the Atlantic City Expressway East: At the foot of the AC Expressway, make the first right onto Fairmount Avenue. From Fairmount Avenue, take the first left onto Mississippi Avenue. Dante Hall Theater is located in the middle of the next block (Mississippi Avenue, between Arctic and Atlantic Avenues).
Or click here for Google driving directions.
Public Transportation
From New York City
Bus: New York City to Atlantic City: NJ Transit Bus #319. The Atlantic City Bus Terminal is approximately a 5 minute walk to Dante Hall Theater.
From Philadelphia
Train: Philadelphia to Atlantic City: NJ Transit Atlantic City Rail Line. The Atlantic City Station is approximately an 8 minute walk to Dante Hall Theater.
Accommodations (Optional)
Dante Hall Theater is a 10 minute walk from Atlantic City's Caesars casino hotel. Summer weekends in Atlantic City are the high season and it may be tough to find a bargain. If you wish to save money, you can look into hotels in Egg Harbor Township, Absecon and Galloway Township, all of which are within a 20-30 minute drive.
ACRooms.com lets you compare prices from more than a dozen hotels with just a few clicks. Although you may find a good deal at an independent motel, we suggest you stick with the major hotel chains and check reviews on a site such as TripAdvisor before you book.

Additional Meals (Optional)
This writing retreat provides lunch as described above. There are numerous options if you wish to eat additional meals in the Atlantic City area, and we recommend a dozen of our favorite restaurants in our dining guide which you will receive at the workshop.
Note: If you are coming from out of town and prefer a Writing Getaway where we make the hotel and meal arrangements for you, consider one of our other upcoming writing retreats.
View our full collection of Writing Getaway photos.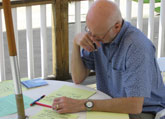 "I needed this. I feel absolutely inspired and I can't want to attend again."
~ Susan, Medford, NJ
"There's a great energy in the room at this program. I appreciate the planning that goes into the day. The pacing is perfect--just enough time for each prompt. The prompts are creative and thought-provoking. These workshops are always so productive; I leave with so many ideas and pieces to expand upon!"
~ Jackie, Bridgeton, NJ
"Peter, magically, has the ability to sweep away doubts, excuses and the static in my head–until all that is left is the opportunity to write. Another great experience!"
~ Joe, Marmora, NJ
"Peter Murphy is an inspirational force of nature! He is wonderful at fostering a warm, inviting environment in which writing comes easily. The writing community is blessed to have his leadership and presence."
~ Shore Thing Writing Getaway Participant
"I loved this event. Peter offered great insight into the craft of writing in an honest, down-to-earth way. The reading selections were great examples and the prompts were perfectly challenging."
~ Farrah, Manahawkin, NJ
"I have a tendency to write with the emergency brake on, but your exercises provided me with some wonderful new tools for freeing my imagination. I really appreciate the amount of thought you put into the program."
~ Mary, Bala Cynwyd, PA
Participants will receive a professional development certificate of participation. Stockton University is recognized by the New Jersey Department of Education to provide Professional Development credit hours, which many other states are willing to accept. You may check with your employer to see if it will work for you.
Call 609-626-3594 or email info@murphywriting.com.
-+- Register now for the Shore Thing Writing Getaway -+-