Murphy Writing of Stockton University Presents the 9th Annual
Ocean View Poetry Getaway


Read. Write. Revise. Relax.
April 25 - 27, 2014 - Filled!
Sea Isle City, NJ
***
The 2014 program is filled. Sign up for our email list to find out about future writing retreats.
***
Join us at the Jersey Shore for a relaxing writing retreat which will energize and inspire you. The weekend will include writing time, supportive feedback sessions, good meals and good company.
"Perfect themes for tickling the muse. Good prompts and atmosphere. I'd love to do this quarterly!"
~ Jeff, Bloomfield, NJ
Space is limited.
Our programs fill quickly.
Register today so you're not disappointed!

Program | Schedule | Faculty | Location | FAQ | Registration | For Educators
Trigger your imagination and compose new poems that will surprise and please you. Spend this ocean-inspired weekend immersed in the literary life: discussing poetry, writing and sharing some of your drafts. If you are new to Sea Isle, you'll be amused to see that you have to pass Pleasure Avenue on your walk to the beach. Too perfect.
"Re-PETERs" welcome! Prompts, readings and craft discussion will differ each time.
Workshop Leader


Peter E. Murphy has led hundreds of workshops for writers and teachers. He was born in Wales and grew up in New York City where he operated heavy equipment, managed a nightclub and drove a cab. He is the author of seven books and chapbooks including Stubborn Child, a finalist for the 2006 Paterson Poetry Prize. His recent essays and poems appear in The Common, Diode, Guernica, The Hawaii Pacific Review, The Lindenwood Review, Mead, The New Welsh Reader, Passager, Rattle and Rhino. He has received fellowships and awards for writing and teaching from The Atlantic Center for the Arts, The Folger Shakespeare Library, The National Endowment for the Humanities, The New Jersey State Council on the Arts, Yaddo and the White House Commission on Presidential Scholars. Peter is the founder of Murphy Writing of Stockton University which includes the Winter Poetry & Prose Getaway and other programs for poets, writers and teachers. Read a brief interview with Peter.
Additional Feedback Session Leader


Catherine Doty, a 2011 NEA Fellow in Poetry, is the author of Momentum, a volume of poems from CavanKerry Press in 2004, and Just Kidding, a collection of cartoons published by Avocet Press. Her work has appeared in numerous magazines and anthologies, among them Garrison Keillor's More Good Poems for Hard Times and Billy Collins's 180 More: Extraordinary Poems for Every Day. She is the recipient of a Marjorie J. Wilson Award, an Academy of American Poets Prize, fellowships from the New Jersey State Council on the Arts and the New York Foundation for the Arts and other grants and honors. Cat has worked as a visiting artist for the Frost Place, the Geraldine R. Dodge Foundation, the New York Public Library and other organizations. Read her guest blog on the Dodge Poetry Foundation's Poetry Friday Blog.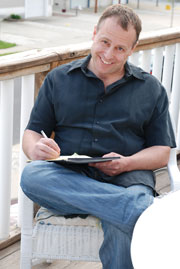 The Ocean View Poetry Getaway will take place in Sea Isle City in a large, modern shore house down the block from the beach. The nearby views of the Atlantic Ocean and surrounding beaches will provide a private, peaceful backdrop for our getaway. Poet/gourmet chef Nina Soifer will be cooking for us again this year, between stanzas, so to speak. You will love her.
We'll spread out in a couple of these comfortable homes. They are warm and welcoming but do not provide linens and towels, so we'll have to bring our own and straighten up before we leave. Please keep this in mind when arranging your schedule. On-site amenities include:
● 2 blocks from the beach, 1 block from the bay
● Outdoor decks with places to relax and write
● Cozy living rooms
● Typically, at least one of the houses will have wi-fi,
which everyone is welcome to use
Sea Isle City is off of Exit 17, the Ocean View exit, of the Garden State Parkway. It is located just 35 minutes from Atlantic City, 80 minutes from Philadelphia and 2.5 hours from New York and North Jersey. The address and directions will be emailed to registered participants approximately one week before the retreat.
This poetry writing retreat starts with dinner on Friday night and runs through lunch on Sunday.
Friday
| | | |
| --- | --- | --- |
| | 4:00 p.m. | Arrive anytime before dinner and settle in |
| | 6:30 | Dinner |
| | 8:00 | Craft Discussion |
Saturday
| | | |
| --- | --- | --- |
| | 8:00 a.m. | Breakfast |
| | 9:00 | Assignment 1 and Writing Time |
| | 12:15 p.m. | Assignment 2 |
| | 12:45 | Lunch |
| | 1:45 | Writing Time |
| | 4:15 | Feedback Session or Free Time |
| | 6:45 | Assignment 3 |
| | 7:00 | Dinner |
| | 8:30 | Open Reading of Previously Written Work or Free Time |
Sunday
| | | |
| --- | --- | --- |
| | 8:00 a.m. | Breakfast |
| | 9:00 | Writing Time |
| | 10:30 | Feedback Session or Free Time |
| | 1:00 p.m. | Lunch and Closing |
| | 2:00 | Straighten Up and Depart |
How big will the workshop be?
This writing retreat can accommodate 15-20 participants, with feedback sessions divided into two groups. Several writers also typically bring non-participating guests.
Which workshop leader will I work with?
Good news, you will work with both Peter and Catherine. Peter will lead the bulk of the retreat, but you will have the opportunity to participate in a feedback session with each leader.
I've been to dozens of workshops. What will I get out of this one?
Peter challenges experienced writers to push beyond their usual limits. If you have been writing for decades, he will compel you to go deeper, take more risks and experiment with form and content. We know that experienced writers benefit from our programs based on the fact that hundreds of "re-PETERs" have attended three or more of our writing getaways. Try one of Peter's prompts from Challenges for the Delusional.
I'm new to writing workshops. Will I fit in?
Absolutely! Peter's unique prompts will allow this supportive program to benefit both beginning and experienced writers. We pride ourselves on building an encouraging community of writers where all feel welcome.
2014 Registration Update: This program is filled. Please join our email list to hear about upcoming programs.
Tuition
$275 - Includes poetry workshop with challenging assignments to get you writing and opportunities to share what you produce in supportive feedback sessions.
Take advantage & save
● "re-PETER" Discount ($25 off) if you've attended any of our other programs
Meal & Room Packages
Required. Must choose one: Includes 2 nights accommodation, 6 meals (Friday dinner through Sunday lunch) and snacks. Meals are served buffet style and include vegetarian options. We do our best to accommodate dietary restrictions.
●
Double Room Package - $195*
●

Single Room P

ackage

- $295

●
Shared Room Package (with non-participating guest) - $395. (If you are bringing a guest, they may join us for the programs on Friday and Saturday nights, meals and all non-workshop activities.)
●
Meals Only Package for Commuters - $100 (Includes dinner on Friday and Saturday, lunch on Saturday and Sunday, and snacks.)

*A double room can be a great way to save money. Let us know if you'd like us to try and find you a roommate.
The Fine Print
| | |
| --- | --- |
| ● | Early Bard Discount ($25 off) if you pay in full on or before March 1 |
| ● | "re-PETER" Discount ($25 off) if you've attended any of our other programs |
| ● | 50% deposit due upon registration |
| ● | Balance due by April 1 |
| ● | Change Fee ($25) will be charged to make changes to your registration after April 1 |
Cancellation Policy
| | |
| --- | --- |
| ● | By March 1 — 100% refund minus a $50 processing fee |
| ● | By April 1 — 50% credit toward one of our upcoming programs |
| ● | After April 1 — Sorry, no refund will be issued |
Space is limited.
Our programs fill quickly.
Register today so you're not disappointed!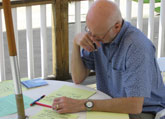 "I have been to 11 Getaways and 17 of the poems I drafted there have been published! Your goofy prompts/ variations/ challenges for the delusional really work. 17 poems I would not have written if not for you, Peter. Thank you for helping me become a poet."
~ Pat, Elkton, MD
"This getaway provided an excellent opportunity to write, which I normally don't have in my busy life. Everyone was very supportive and welcoming, the food was superb and the accommodations were beautiful. I loved staying so close to the beach!"
~ Sherrie, Bridgeton, NJ
"This was my first time attending and I truly grew. I loved the low-key, relaxed nature and appreciated the thoughtful assignments and how they were structured. I loved the sessions, the combination of reading, craft suggestions, discussions and writing. Thanks for the great experience."
~ Christine, Philadelphia, PA
"Thanks for your skillfully delivered kicks in the ass. The structure is well designed to help us get out what's inside us. Well worth the money. You really deliver what we need."
~ Dave, Cherry Hill, NJ
● Earn Professional Development Credit. Participants will receive a professional development certificate of participation upon request. Stockton University is recognized by the New Jersey Department of Education to provide Professional Development credit hours, which many other states are willing to accept. You may check with your district or employer to see if it will work for you.
● Your school may pay for you. Many educators are sponsored or reimbursed by their school districts and colleges for our workshops. Purchase orders are welcome.
Call 609-626-3594 or email info@murphywriting.com.