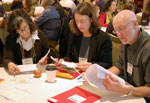 Winter Poetry & Prose Getaway
Supportive. Energizing. Inspiring.
January 13-16, 2017, Atlantic City, NJ area
Special Guests: Stephen Dunn & Sharon Olds
Advance your craft and energize your writing at the 24th Annual Winter Getaway. Enjoy challenging and supportive workshops, insightful feedback and an encouraging community. Choose from fiction, nonfiction, memoir and poetry. Scholarships available. Learn more.

Murphy Write-In: January 2017
January 19, 2017, Hammonton, NJ
Murphy Writing has teamed up with our colleagues at Kramer Hall to offer a free monthly "Write-In" as part of Main Street Hammontonís Third Thursday. No cost—just time to write, encouragement and community. Free. RSVPs via Facebook are encouraged. Learn more.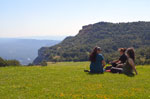 Get Away to Write - Spain
A Getaway for Poets and Writers
July 11-18, 2017, Tavertet, Spain
** International writing retreat **
WRITE IN SPAIN. Retreat to beautiful northern Spain to immerse yourself in a supportive week-long writing experience that will energize and inspire you. Enjoy encouraging workshops, plentiful writing time, panoramic cliff top views, excursions to Barcelona and more. Scholarships available. Registration will open January 25, 2017. Sign up for our email list for a reminder.

We will announce the rest of our 2017 writing retreats by February 1, 2017.
Sign up for our email list to find out about future writing workshops in the US and abroad.
We offer "Early Bard" and "re-PETER" Discounts for most of our Getaways. Be sure to take advantage!